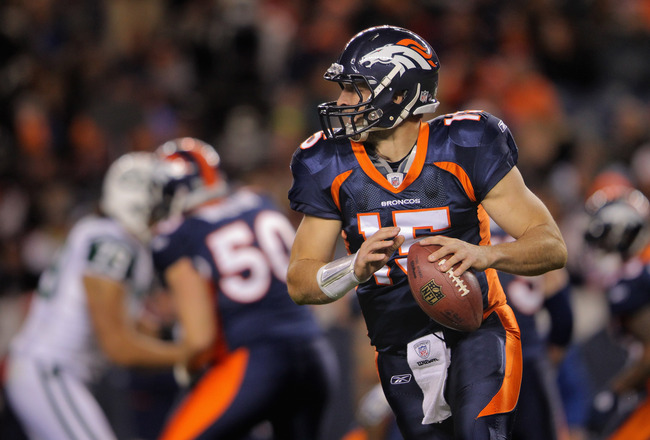 Tim Tebow is the most important player that has walked onto an NFL football field in our generation.
Crazy, right? Maybe a bit outlandish? Perhaps at this point you think I should check into a mental hospital.
But before you start filling out my paperwork to check me into a psych ward somewhere, think about this: How many athletes have sparked the kind of debate that Tebow has? How many players have polarized media analysts and fans like he has? How many individuals have attracted so much media attention to themselves without some sort of nasty scandal surrounding them?
None. Not that I can think of. Ever.
Let's get one thing straight right off the bat: I think the world of Tim Tebow.
I love the way he approaches the game of football: with tenacity, energy and the ability to lead and inspire a team around him. I love the way he conducts himself off the field: with a selfless attitude, never afraid to give credit to teammates and shaking off constant criticism with class. And most of all, I love the way he stands unashamed for Jesus Christ, thanking the Lord and giving Him all the glory while being a light in the world for so many people through his Tim Tebow Foundation and other charitable functions.
There are many who love him. Others who despise him (or just don't want to like him). Others who don't understand him. But it seems like everyone has an opinion on this 24-year-old, second year quarterback out of the University of Florida.
The truth is, Tim Tebow is revealing more about who we are as football fans and as human beings than we really know. He is a once-in-a-lifetime lighting rod of an athlete that is centered in the midst of a media hurricane that we created. It's amazing how a quarterback who was speculated to be the third string quarterback on the depth chart a few months ago has now reached this point to the dismay of many know-it-all analysts.
We all have an opinion on this guy. Not because he asked for it, but just beacuse Tebow is... well... Tebow. And people like him tend to drive people crazy.

Unlike any other NFL player in history, Tebow is forcing all of us to ask questions about the role of a quaterback both on and off the field: What kind of athlete do we want strutting about in the world of sports?
And that makes him a very important figure right now.
It's amazing how Tebow's detractors are always shifting their arguments around. First, the argument was that he was not going to be a first round NFL pick. He proved them wrong. Second, he wasn't going to be able to win football games as a starting quarterback in the NFL.
Wrong again. And now they will keep looking and scratching and clawing for something... anything... to keep the doubt alive. And instead of giving him credit, they'll try and explain it away to some other player or unit or whatever.
How long before people learn?
Here's what it is: Analysts just love statistics and Tebow's stat line is not exactly golden at this stage in his career. They love to measure things and crunch numbers and stats and how far they can toss a football and all this other nonsense. But the problem with that is that sports are not all about numbers. There are things that happen in the locker room, in the huddle, on the sidelines that we can't put a stat on. We can't categorize it.
Problem: Tebow, right now, is that exception. Is he the greatest QB in the league? Not by any stretch of the imagination. But isn't the main job of a quarterback to lead? Aren't they the ones that the other 10 guys in the huddle look to for confidence and assurance when the game is on the line (Hello, Tebow Time)? Isn't it their main job to help their team win football games?
Well, he's done just that. He did it in high school. He did it in college. And now he's doing it in the NFL.
He doesn't make dumb decisions and has an 8-to-1 touchdown to interception ratio in six starts. Those are terrific numbers for a young quarterback. He makes his teammates better, helping to open up the run game for backs like Willis McGahee by effectively running the football and averaging 5.8 yards per carry this season. And when the game is on the line, he delivers by posting a 100.6 QB rating in the 4th quarter and overtime this season.
He has made his teammates believe that they can win and even make the playoffs after people were starting to talk about Andrew Luck in the 2012 NFL Draft. Oh and, by the way, that defense that has been doing so well as of late? Letting up less points per game and all that? The Broncos were ranked 30th in the league in time of possession when the team was under QB Kyle Orton. Since Tebow took over?
The Broncos are now fifth in the league in that category
, keeping the defense off the field for significantly less time per game.
That makes him a good quarterback in my book.


He is forcing us to reexamine the way we look at the quarterback position and showing us that there is in fact another way to win football games. Some say he is pushing the game back 50 years. So what? You think his teammates care as long as they're winning football games? You think they care as long as they are one game out of the AFC West after being left for dead at this point a month and a half ago?
He scares some people because he plays differently. And because they are too caught up in the long-term questions. Let's enjoy the ride for now, because this is fun. And in the end, isn't that what sports is all about? Let John Elway figure out what to do with him after all this season is said and done. But one thing is certain: Tebow is making his case to be the starter in 2012 despite what Elway's other plans may have been.
TEBOW THE PERSON
"I know that no matter what happens on the football field, that's not what defines my life. It gives me a platform and an opportunity to try and be a great role model for the next generation... If all we're doing is winning and losing football games, then we haven't done a lot with our lives." - Tim Tebow in his interview with Skip Bayless
But it's not just what Tebow does on the field that makes him an intriguing icon. And that's what makes him really interesting.
It's when he changes from a Broncos jersey into a suit and tie that we get to see another dimension of who he really is. You will see him always giving credit to his teammates and showing respect to others. We see him getting out in the community and touching the lives of many. You will see him thanking Jesus Christ after completing yet antoher improbable comeback.
But to many others, he is an icon and a symbol of what should be the norm for athletes in professional sports. An unashamed ambassador for Christ using his platform to share his faith to others while never forcing it down anyone's throats. Not that it matters anyway. Some people would rather not have to hear it regardless.
And this is the problem. Tebow wants to be a role model. How about that? After seeing countless athletes try to distance themselves from being examples-to-be-followed by saying it's not their job to do so, going so far to say to everyone that they don't want to be a role model, here comes a young guy who wants to make a difference, a guy who wants to make an impact in the lives of others. And that tends to make the average person feel uncomfortable, because he is raising the standards not only for athletes but on ourselves. So while we praise his actions off the field, may detractors would love to keep that aspect of his life muffled.
So now Tebow presents another question for us: What kind of athletes do we want? Do we want people like Pacman Jones and Terrell Owens running the headlines constantly? Or do we want men of character like Tim Tebow setting an example?
I know for me personally, Tebow has been an encouragement and an inspiration for how to effectively use a platform to positively influence our world. If I had children, I would point to him and say that is the kind of person we should be emulating. And that makes him more of a winner than anything a stat sheet can show in my book.
So yeah, maybe Tim Tebow is a bigger deal than we would like to admit he is. Time to start answering some of these questions for ourselves.